30-10-2010 :
The Issoudun guitar convention:
The bear went out of his den ! On 30th et 31st of October I was in Issoudun to show two of my "
L series
" and 3
C² acoustics
. Christophe Miguet were here to give the informed perspective of the user. Where exhibited the C² number 01, 03 and 04 and the L-05 "No Screw" and L-07 "Improvisation". The web of the convention :
www.issoudun-guitare.com
The convention was created by Marcel Dadi and the "Atkins Dadi Guitar Players Association" in 1989. I participated to several of the first editions. This year I went to a very emotional concert of John Renbourn and the reunion with some colleagues and friends as Maurice Dupont and Franck Cheval were great ( drinking Quincy white wien of the area, Caol-Ila Islay single malt…)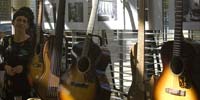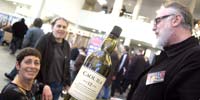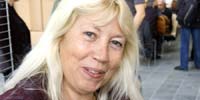 Well, let's talk a bit of guitar, here is Francois Sciortino and Patrice Dania playing the C². Patrick is used to play the guitar my friend Franck Cheval.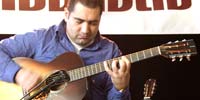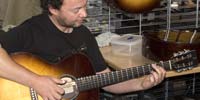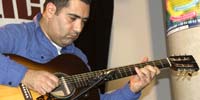 The Laguitare.com review with the video of François Sciortino and the "C²-004 Sanscrite".

27-10-2010 : Film shooting in Bassompierre !
Eric Cantona, Paul Personne et Jean François Stévenin played several scenes of the film De Force by Franck Henry. Great commotion in the village, trucks everywhere, a new door to the workshop, hundreds of technicians, the super-fun! Thanks Franck ! Eric plays a gangster who come and asked the help of his former comrade (Jean François) who stopped playing guns for the chisels, Paul plays the client..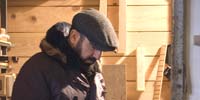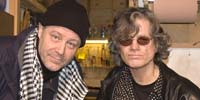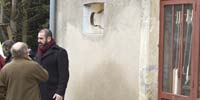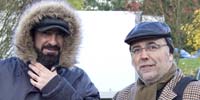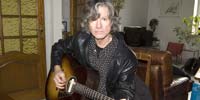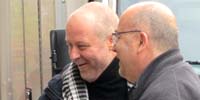 21-07-2010 :
Parker guitars re-fretting
,
After several years of practice, and durability tests, I can now accept the Parker guitars re-fretting. These very special stainless steel frets with no tang are just glued on an graphite/epoxy fretboard. They are known to be almost indestructible but the glue can be damaged by some chemicals.

05-07-2010 :
A dedication for the C²
The very talentfull
Shawn Pittman
is one of the best current representatives of the Texas Blues. He just recorded his next Live CD, he chose the C² for the whole acoustic part of this album. More information soon !

20/06/2010 :
The New Large Ensemble of Carine Bonnefoy, a marvel !
Frederic Favarel told me about this band he's playing with : the New Large Ensemble of Carine Bonnefoy.
Dream, delicacy, improvisation, a delight! You should listen and watch right now this concert on 20/06/2010 to the Parc Floral of Vincennes, near Paris.
Frederic's intervention with his U-guitar starts at 9th minute…

10-03-2010 :
Remembering Do Caillierez
Dominique viens de nous quitter, une brutale surprise comme il en avait le secret. Je l'ai rencontré à Lyon en 79 ou 80, quand il est devenu mon tout premier collaborateur. Il m'a suivi en 81 dans la grande aventure vosgienne avec Eric Berthelot et Alain Gregoire. Plus tard, Do, Alain Gregoire et Nicolas Petibon ont monté D.N.G. à Paris 11°, leur réputation est grande et méritée. Do a marqué tout ceux qui l'ont rencontré par sa personnalité très directe, son énergie et sa créativité sans bornes.

08-03-2010 :
An acoustique by Leduc : the "C²"
Pronounce "C-square". La réalisation des équipements a commencé au début de 2009. Calibreuse, cintreuse à éclisses, moules, débits et séchage des fournitures, tout cela ne se fait pas en une journée !
Conçue en collaboration avec mon vieil ami l'architecte Christophe Miguet, l'étude de cette ligne de guitares acoustiques est maintenant terminée, le premier modèle est prêt deux autres arriveront en juillet. Le premier prototype est constitué d'un fond et d'éclisses en acajou du Honduras, table épicéa, manche 14 cases en Honduras et touche en palissandre de Rio centenaire. La forme est une petite jumbo, proche de des Gibson L50. Toutes les incrustations, tête, rosace... sont en palissandre de Rio et en ivoire ancien provenant de récupération. Si par la suite cette déco est conservée, elle sera évidemment réalisée en ivoire végétal.
Plus d'infos...

07-01-2010 :
Festival Cordazik, from 7th to 22nd in Fameck
16 instruments Leduc dont 2 "série-L", 3 fonics de Jean Weinfeld et une sculpture de Christophe Leduc sont exposés parmis les peintures de Nacer Boudjou et les instruments de l'association Colofin. Un concert de Kader Fahem et son Hispanica Jazz Trio terminera ce festival en apothéose.
Le concert s'est avéré superbe ! Benoit Martiny remplacait Jean-Marc Robin au pied levé.

01-01-2010 : Hi ! Here is my
new web site
totally made on the corner of my work bench ! It is designed to be
multilingual
, but few pages are translated and most of them by machine translation, so some will laugh!